Traction Avant 11C Commerciale 1955 – VERKOCHT
Traction Avant 11C Commerciale – VERKOCHT

1955
tot op heden ongerestaureerd, origineel exemplaar !
originele lak
Nederlands kenteken + documenten
Inclusief originele franse documenten: carte grise, declaration d'achat, certificat de vente
Afkomstig uit Loire-departement – Firminy
20 jaar stil gestaan, mooi restauratieproject of juist patina behouden !
Een 11 Commerciale, met o.a. 3e zijruit en doorlopende achterklep.
Carte – Grise, afkomstig uit Loire-departement – Firminy
Vooralsnog besloten de helft, van het in 20 jaar verzamelde stof, te verwijderen.
Traction Avant type: Com(merciale)
Een erg speciaal model afgeleid van de Berline, of eigenlijk van de Limousine is de Commerciale. Deze had een eigen serienummerreeks en de type aanduiding was 11C, misschien omdat de auto was bestemd als bedrijfswagen. Het model was voorzien van een tweedelige grote achterklep waarvan het bovenste deel naar boven scharnierde en het onderste deel eenvoudig te verwijderen was. De auto kon als bedrijfsauto maar ook als limousine gebruikt worden. De Commerciale werd in een tweetal periodes gemaakt: 1938-1942 en 1954-1957.
Het vooroorlogse model verschilde het meest van de andere Traction modellen. De achterklep was tweedelig. De achterbank kon naar voren worden verplaatst of geheel worden uitgenomen. De rugleuning van de bijrijderstoel kon worden neergeklapt en vormde zo een klein tafeltje. De auto was ook bedoeld om kleinvee te vervoeren en in de bodem zat een luikje zodat de urine weg kon lopen. Als accessoire kon er een houten vloer worden besteld die uit meerdere delen bestond en in verschillende hoogtes worden geplaatst om zodoende een vlakke laadvloer te creëren. De hele auto (inclusief de hemel) was bekleed met skai i.p.v. stof zodat ze eenvoudig kon worden schoongemaakt na gebruik.
Het naoorlogse model had echter een achterklep (5e deur) uit 1 stuk die aan de bovenzijde scharnierde, maar was verder in grote mate gebaseerd op de Familiale. De bodem had zelfs een bak voor klapstoelen en de bekleding was de bekende lichte blauwgrijze gestreepte stof, waarbij iets meer skai was toegepast dan bij de Berlines. Er werden 3.500 vooroorlogse modellen geleverd en 9.000 naoorlogse.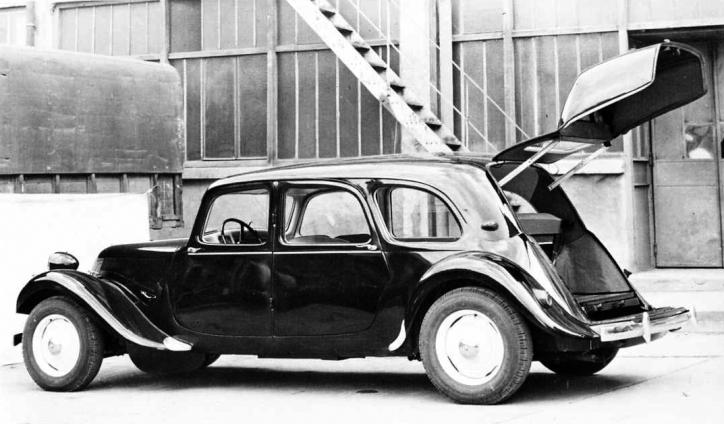 Met dank aan Traction-avant.nl (Bron)
117 reacties op "Traction Avant 11C Commerciale 1955 – VERKOCHT"